About Geetha Sridhar
Dance, for me, is a body, mind and soul experience. In my career as a classical dancer, I have experienced that dance is continuous as life itself. Ergo it is a constant challenge to keep alive and contemporaries dance, in all its various forms as I practice it.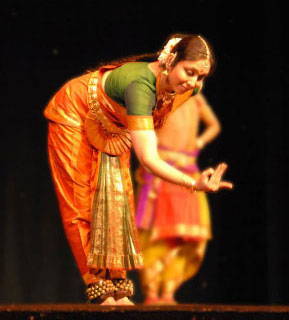 As a traditional bharathanatyam exponent from the renowned Kalakshetra School of art and dance, I have realized the sublimity of a classical mode of expression.
 
I experienced the fluidity of body and mind when I chose to delve in to modern and contemporary dance. For seven years in Chandralekha's dance company, I performed in diverse projects and abstract themes. 'Lilavati' was a piece on ancient Indian mathematics. 'Shree' was a pronouncement on the power of the feminine principles. My travels and performances at art festivals in Russia, Germany, Italy Australia, Canada, France and the United Kingdom have been personally enriching experience. I have assimilated multi cultural art forms and diverse viewpoints in my interactions with dancers and performers across continents.
Acquiring a Masters degree in Dance Training and Education at the University of Kent, my purposeful teaching extends between Kingston and Chichester Universities. As a committed staff of the London School of Carnatic music, I take it upon myself as my duty and responsibility to impart my sacred knowledge to the younger generation of the British Asian Community. Today, as a teacher, choreographer and as always, a learner I take inspiration from Yoga, Kalari and Kolam (art of floor painting) in formulating new idioms of dance.
View Video
* 'Ana Karenina', a bharathanatyam interpretation of Leo Tolstoy's work. (1994)

* 'Hindu Mythology"- a production by Tern Television for Channel 4, is a dance ballet on the Hindu story of Creation. (1995)

* 'Rhythm of Time', 'The Four Seasons' is the concept that underpin this project to explore with rhythm and space. This was specially designed for educational work at schools in the Midlands. (1998)

* 'Kavacham'- Armour, a contemporary dance interpretation of an ancient Dravidian text- Shanmuga Kavacham. (1998)

* 'Spring', is an experimental project using western classical music by Andrew Baker. (1999)

* 'Agam', a haiku style interpretation of love poems of Sangam literature. (2000)

* The Olympian project'- dealing with dance and disability. (2000)

* 'Shoes', -a metaphor for dance, linking it to the local history of Staffordshire's glorious shoe industry in the 18th century. (2000)

* Natya Dhrishti- a jugal bandhi with Kathak style of dancing, interpreting the painting display ofPerseus turning Phineas to Stone, by Luca Giordano, at the National Gallery London. (2004)

* Reconstructed the original production of 'Sri' by Chandralekha forMenakaThakkar Dance Company in Canada for their International Dance Conference in (2009)

* Choreographed a complete repertoire for an International fund raising event for ManithaNeyam. (2010)

* Presented 'Samarpan'- a unique project collaborating with a painter and a filmmaker for Kala Mahotsav in Stafford. (2012)

* Baroquanatyam- an innovative project supported by Armour India-France. The string quartet ensemble renders its tunes and tones of Baroque music to the classical nuances of Bharathanatyam. (2013)
"Performing on stage with Geetha is hugely enjoyable. So, what is it like? The words that jump to mind are commitment, perseverance, sensitivity to people, attention to detail and most of all a terrific sense of humour, so essential when all hell is breaking loose!"
Vidya Thirunarayan
Dancer, Ceramicist, Entrepreneur
"I had the absolute pleasure and great honour to work with Geetha as a dancer in a remount of Chandralekha's iconic work Sri, performed in Toronto in 2008. Geetha's grace, depth and sincerity as an artist, performer and collaborator are boundless. Her keen intelligence, intuition, inspiration and generosity enriched the process to create a layered understanding and connection to the piece. Geetha's body of work and experience has cultivated a unique artistic practice that deeply incorporates traditional understandings of Indian dance, specifically Bharathanatyam with a fluid contemporaneity. My time spent with Geetha truly impacted my own artistic viewpoint and career and I am most grateful for the experience".
Brandy Leary
Choreographer/Performer
Artistic Director: Anandam Dance theatre
Toronto, Canada
"Geetha Sridhar is a pleasure to work with; her level of technique and understanding of Bharathanatyam is, quite simply, outstanding. Her ability to connect and engage with any given client group is exemplary which allows for a strong foundation in the delivery of the content of lectures. Geetha is able to offer relevant and useful feedback to participants and is a very good assessor of technique and performance, this allows for a greatly enriched student experience."
ANDREW WRIGHT
Senior Lecturer in Musical Theatre
University of Chichester
Geetha's talent, professionalism, work ethic, knowledge and energy is equalled only by her modesty. We're lucky to have a resource like her working in the uk."
Jason Piper
Former Principal Dancer New Adventures, Richard Alston Dance Company
Associate Professor and Director of Studies at Kingston University