Tailored Dance Teaching to Fit
Geetha is a qualified dance teacher with more than 20 years' experience in training young people and adult groups. She holds a Masters degree in Dance Training and Education and is a lecturer at Kingston and Chichester Universities where she teaches a range of modules on the Dance undergraduate course, such as 'Performing Cultures', 'Text and performance', 'Dancing Cultures' and 'Bollywood & Beyond'.

Following the Kalakshetra method of tutelage, she teaches foundation to advance levels.

She adapts bespoke teaching techniques of bharathanatyam to cater for various genres such as musical theatre, drama and other dance faculties.

Her versatility and broad experience with teaching makes her an outstanding and accomplished guru.

She takes classes for individual and groups and can be contacted for private lessons. She is also available for residencies and workshops. 
Arangetrams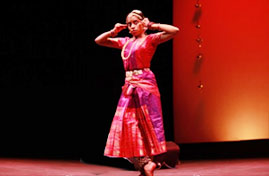 Geetha has a keen interest in identifying and developing young talent and nurturing them into professional dancers. She has worked with many young students over a number of years to train them from an early stage and training them towards their Arangetram.
Arangetram is the debut on-stage performance of a classical art student. It comes from the Tamil words 'Arangam' which means stage and 'etram' meaning rising or climbing, so the term literally means climbing the stage. It involve years of professional training for a dance student. The performance is a graduation ceremony where the Guru presents the pupil to the public. It marks the start of the dancer's professional career.

Geetha encourages students to start at an early age to allow for a wholesome experience of imbibing this ancient art form.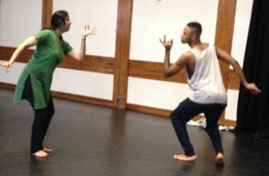 Private Dance Lessons
Geetha takes private classes for individuals or groups. These classes are custom designed to suit the objectives and needs of the students. The classes include traditional bharathanatyam and the incorporation alternative styles.
These lessons are mainly conducted in the areas Acton, Brentford and Lewisham. The duration of each lesson varies from 1 to 4 hours according to requirement.
Dance Tutoring
Geetha prepares students for grade exams conducive to any accredited board, including ISTD. She has devised her own syllabus for the board of London School of Carnatic Music. The programme covers a comprehensive learning package spread over 8 grades that include both practical and written work. The practical aspect includes basic movement vocabulary leading to repertoire pieces and choreographic skills. The theoretical aspect covers all the essential elements of hand gestures, facial expressions, and other components relating to Abhinaya (mime).