About Sukanya Ramesh
Sukanya Ramesh, Geetha's sister shares the same passion for Bharathanatyam. Her interest in arts is multi faceted. She was initiated in to bharathanatyam from a young age. Gaining an ICCR scholarship she completed her dance training, under eminent gurus at Kalakshetra.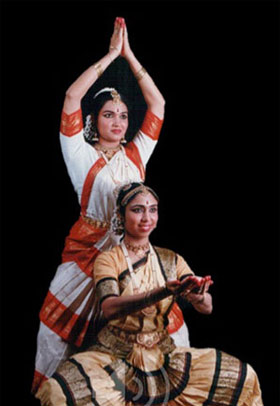 Sukanya was a member of Chandralekha Dance Company, which gave her the opportunity to dance at the inaugural function of Festival of India in Russia. As an internationally acclaimed dancer her performance tours include all the major cities in India and other countries include U.S.A, UK, UAE, Australia, Japan, France, Germany, Switzerland, Sweden, Singapore, Malaysia, and Srilanka.
As a successful film actress, with over hundred films to her credit Sukanya has etched a place for herself in the Tamil film industry.  Her achievements and accolades include State Govt Award (twice- for films and Television), Kalaimamani Award, Lifetime Achievement Award from Nadigar Sangam, and Filmfare to name a few. Her stint in the small screen encompasses over twenty serials.
Sukanya's recently found passion, for writing and composing music, culminated in the release of two musical albums. (Azhagu and Thirupathi Thirukudai)
Sukanya continues to practice all of her passions such as teach bharathanatyam, choreograph for films, direct tele-film, give voice rendition, and sing for Films/advertisements.

View Video