About Sandhya Sridhar
Sandhya Sridhar has been learning Odissi dance from Smt. Swapnokalpa Dasgupta for the past
4 years. She has performed in various productions in London, in locations such as Bharathiya Vidya Bhavan and Alexandra Palace.
In August 2013, Sandhya completed her Rang manch pravesh (debut performance) in Odissi dance at Bharathiya Vidya Bhavan in Chennai. She performed a repertoire consisting of 5 traditional items.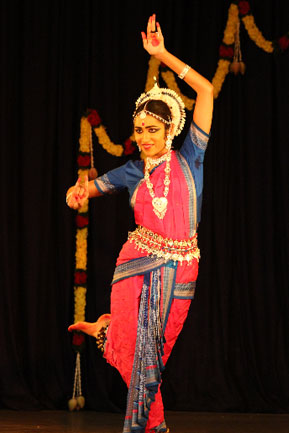 Parallel to her dancing, Sandhya has maintained a strong interest in academics. She completed her secondary education in May 2013 at The Godolphin and Latymer School in Hammersmith, London and is hoping to channel her interests in science in the future. She is currently studying a BSc in Biomedical Sciences at Queen Mary University in London.
Sandhya underwent training in classical Carnatic Violin and Speech and Drama (gaining a distinction in her Grade 8 examination). She also has an inclination towards charity work. Over the past two years, she has been a peer counsellor at a charity run helpline for teenagers in London, and in 2011, raised her own funds for a trip to Chile to work in a local orphanage.
Sandhya continues to practice dance alongside her education.